People Tracking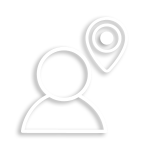 "People tracking" is a product suitable for anyone who wants to increase their personal security. The product is applicable in almost every area. It can be worn on the wrist or put in valuable packages, thus becoming an invisible companion that helps the instant positioning of its owner.
Our busy everyday life puts us often in risky situations. With "People tracking" we offer you a solution for yourself or your relatives - children and parents. Our tracking system locates people or groups of people, as well as valuable packages. The information is constantly sent to our data centers, allowing for instant positioning at all times.
Application
"People tracking" is applicable almost everywhere. The product is designed to cover the requirements of different groups of people, each having individual habits and behavior.
These can be your relatives and family - elderly people, small children or disabled people. The product is also suitable for tourists, who usually travel in distant areas that are difficult to access, people practicing extreme sports or just company staff who work in open spaces (woods, mines, etc)
Why choose this product?
This is the product that gives you individual tracking and personal security in extreme situations, when you get lost or in case of an accident. "People tracking" sends constant positioning updates from anywhere in the World, 24/7 every day. You have access to the current object's location, as well as a number of reports and statistics for past periods.
No special skills and previous knowledge is required to use the product. It is designed in such a way, that it is easily accessible for people of all ages. Our tracking devices are small (like a wrist watch) and can either be worn on the wrist or put in pockets and bags. This makes them virtually invisible and their application brings no discomfort.
Personal tracking devices have their own power supply (a battery) that can be recharged. They offer you a number of opportunities and a very wide area of application.
Specifics and characteristics
"People tracking" means security;
The product offers instant positioning and tracking over time;
The device has a panic button that can be used to signal our system in extreme situations;
Individual settings for automatic signalling;
Display the current object's position on an interactive map;
Automatic SMS messaging according to custom set-up;
"People tracking" enables you to track all objects in real time, using an interactive on-line map. You can access this information using any personal computer that is connected to the Internet. You access your personal area in our system using simply your user name and password.
The interactive on-line map gives you:
The object's current location;
Time stamp of the last positioning update;
Moving trajectory;
Movement speed and course;
Distance travelled and total time in motion.