Vehicle Security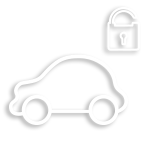 Our "Vehicle Security" service allows you to locate your vehicle at any time and from any place. The only thing you need is a computer with an active Internet connection. You can track your vehicle remotely from a distance. In the case of suspected theft, you can remotely cut the engine's fuel supply, preventing unwanted outcome.
This way you will feel much more secure against unforeseen situations and act calm and confident at all times. Any intrusion attempts, misuse and fraud are registered along with the exct date, time and location information. The data is stored in our data centre and is available to you at any time 24/7. You can always choose from several system options: real time vehicle tracking, vehicle movements in the past, print out a variety of statistical reports or a number of useful statistics on fuel consumption and distance travelled.
Why choose this product?
Most importantly, this product provides you with continuous monitoring of your vehicle and ensures its security. The device maintains a constant connection to our data centres, allowing you to receive information on-demand. Furthermore, we provide you with an up-link to the tracking device, allowing you to cut the vehicle's fuel supply remotely. In the case of suspected theft, you will be notified immediately. We support several notification options, including SMS, e-mail and others.
In case of an emergency, accident or injury on the road you can easily use the built-in panic button to contact our control centre. We promptly pass the information to different institutions (Police, Road Help, Ambulance).
"Vehicle Security" is a product suitable for all car owners. It increases the security of your property and can prevent different kinds of fraud or theft attempts. You act calm and confident in exceptional situations on the road. We guarantee you our support in such situations.
Basic features and capabilities
"Vehicle Security" offers you a 24-hours control of your vehicle.
The product signals in any situation or problem which arises with your vehicle.
Provides you with information on the vehicle's whereabouts at any time.
Allows you to track the status (running, stationary, current speed) on an interactive on-line map.
Guaranteed access to our services and your data, whenever you need it.
Ability to cut the vehicles fuel supply remotely.
The installation of the product is done by a trained team and does not require changes to the vehicle (breaking, drilling or other such activities). It takes no more than 60 minutes and you can arrange an appointment for installation with a simple phone call.
After the installation, the device remains hidden in the vehicle.
Specifics and characteristics
Position tracking using an interactive on-line map.
Locate vehicles at any time.
Vehicle speed indication.
Indicates when the vehicle is moving and when it is stationary. Easy access to past periods.
Various statistical reports (fuel consumption, travelled distances, engine-on hours), including past periods.
You can cut the fuel supply to the engine from a distance.
You have a panic button to contact our control centre.